As the premier provider of professional cleaning services in southern New Hampshire, we are dedicated to keeping your company's facilities, offices and manufacturing equipment clean and professionally maintained.
Our commercial cleaning service clients, including health care facilities, manufacturing operations, office buildings and high-tech businesses, count on Great Bay Facility Services, Inc., for a full range of economical, quality janitorial cleaning services.
For residential and commercial cleaning services, our fully-insured team takes pride in using the latest in technology for all of your cleaning and maintenance needs. Our Great Bay team does everything from carpet cleaning, upholstery cleaning and floor cleaning to water remediation, home mold testing, mold inspection services, hard surface cleaning and tile care.
We've now also added dry ice blasting, an environmentally-friendly way to clean brickwork, pipes and even manufacturing equipment without the mess of sandblasting. With dry ice blasting, we can clean years of debris from your manufacturing equipment, while your operations continue to run nearby. No need to shut down production for cleaning! (See our video)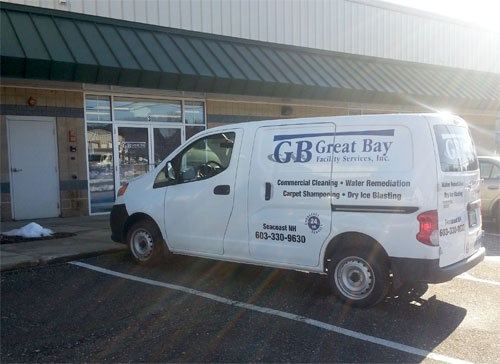 The focus at Great Bay, a family-owned company, is to be your "go-to" resource for commercial cleaning services, residential and commercial carpet and uphols
tery cleaning, water removal, home mold testing and dry ice blasting. Find out why so many businesses and homeowners choose Great Bay when they want the job done right, whether it is for long-term commercial cleaning contract services or a one-time project.
Contact us today to discuss a customized plan for your home or business!
Looking to join the Great Bay team? Call us today about working for our family-owned company at a job that offers flexible hours and placement in a work location near your home.